About the Department:
---
Electricity is the basic form of energy that runs our world, It is also a decisive prerequisite for rapid development of industry and agriculture. Electrical Engineering is a fascinating and rewarding field of study with many opportunities to solve key engineering problems.
The Electrical Engineering Department at Arya Group inculcates in the students skills to understand, apply and analyze the underlying electrical principles through comprehensive curriculum of Electrical Machines, Electrical and Electronic Network Theories, Control and Power Systems etc.
The department has well qualified & experienced faculty. It nurtures the students so as to perform at high academic level.. State of the art laboratories provide hands-on training to the students of Electrical Engineering. Special classes are also arranged for good understanding of the complex subjects. Classroom teaching is supported by video lectures and PPTs. The Department of Electrical Engineering has an advisory council from amongst the teaching members, which meets at least once in a semester to review and evaluate performance of the department and offer advice in needed areas. Arya is one of the top Electrical Engineering colleges in Jaipur.
Vision And Mission:
---
Vision: To promote specialized knowledge in the field of electrical engineering along with interdisciplinary awareness and to develop a framework to support the communicative and ethical needs of industry and society at global level.
Mission:To impart quality education in the field of electrical engineering and to facilitate and develop students for their superior employability, to pursue research and higher studies.
Message By HOD:
---
Electrical Power There is growing demand of Electrical Engineers in the Government and private sectors., The Department is making best efforts to produce highly trained and capable engineers who can take up the challenges of the real world. Today the technology is changing at much faster pace as ever before. Department of electrical engineering has well equipped laboratories to provide good knowledge of the subject by performing practical experiments. The department comprises of best of faculty from industries and academia to help bridge the gap and groom the best talent for the industries. ACERC is Ragging Free Campus. Number of Anti ragging measures are in place to ensure strict compliance.
State of the Art Labs:
---
The department has following well equipped laboratories which not only fulfill requirement of RTU curriculum but also provide ample opportunities to the students to carry out their project and seminar assignments as well as to undertake any research work:
Basic Electrical Lab

Power Electronics Lab

Advance Power Electronics lab

High Voltage Lab

Electrical Machine Lab

Electrical Drives and their Control Lab

Electrical Measurement Lab

Power System Lab

Smart Grid Lab

Digital Electronics Lab

Microprocessor Lab

Electronics devices and Circuit Lab

MAT Lab for Control Systems and PLC Circuits
High Voltage Lab
Power Electronics Lab
Advance Power Electronics lab
Basic Electrical Lab
Microprocessor Lab
Electronics devices and Circuit Lab
MAT Lab for Control Systems and PLC Circuits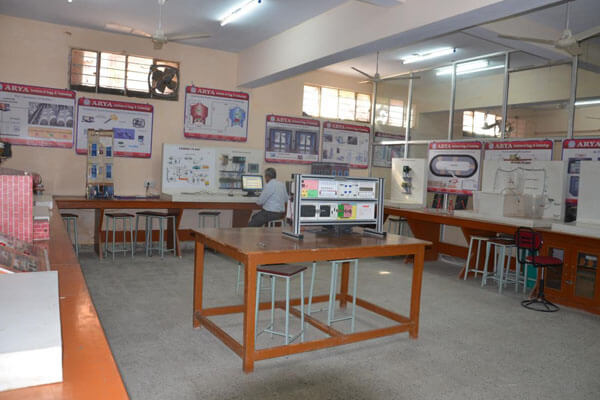 Electrical Drives and their Control Lab
Digital Electronics Lab
Department Specializations:
---
a) Focus Area:
Generation, Transmission & Distribution

Electrical Machine Design

Power System Engineering

Power Electronics

Switch Gear & Protection

Control System Engineering

Circuit Theory & Analysis
b) Digital Notes:
---
The Department has digital notes with videos as well as hard copy Notes on all the subjects relevant to RTU syllabus. These notes have been prepared by highly experienced faculty. The Digital notes can be found on "aryanotes.com"
c) Student Development (SDC) and Campus Recruitment Training (CRT)s:
SDC is a group of professionals that provides regular inputs for complete development of students and making them prepare to face competitions and future challenges.
No. of Seats:
120 (Electrical Engineering)
---
PROGRAM EDUCATION OBJECTIVE AND OUTCOMES
---
(1) Program Description:
To offer high quality education in the field of Electrical Engineering and to prepare students abreast of latest global industrial and research requirements and fulfill responsibility towards community.
---
(2) Program Education Objective:
I. Preparation:-
To prepare undergraduate students with appropriate blend of theoretical foundations, experimentation & technical implementation to comprehend and pinpoint problems in the field of electrical Engineering to excel in postgraduate programs or to succeed in industry / technical profession.
---
II. Core competence:-
To provide students with a solid foundation in mathematical, scientific and engineering fundamentals required to solve electrical engineering problems and also to pursue higher studies. Student will be able to employ his knowledge along with necessary techniques & tools for modern engineering applications.
---
III. Breadth:-
To train students with good scientific and electrical engineering breadth so as to comprehend, analyze, design, and create novel products and solutions for the real life problems in the present electrical system.
---
IV. Professionalism:-
To inculcate in students professional and ethical attitude, Communication Skills, teamwork Skills, computer programming skill and an ability to relate electrical engineering issues to broader social context.
---
V. Learning Environment:-
To provide student with an academic environment aware of excellence, leadership, and the life-long learning needed for a successful professional career through independent studies, thesis, internships etc.
---
List of Program Outcomes
---
PO-1
Engineering Knowledge: Apply knowledge of mathematics and science, with fundamentals of Electrical Engineering to be able to solve complex engineering problems related to EE.
---
PO-2
Problem Analysis: Identify, Formulate, review research literature and analyze complex engineering problems related to EE and reaching substantiated conclusions using first principles of mathematics, natural sciences and engineering sciences.
---
PO-3
Design/Development of solutions: Design solutions for complex engineering problems related to EE and design system components or processes that meet the specified needs with appropriate consideration for the public health and safety and the cultural societal and environmental considerations.
---
PO-4
Conduct Investigations of Complex problems: Use research–based knowledge and research methods including design of experiments, analysis and interpretation of data, and synthesis of the information to provide valid conclusions.
---
PO-5
Modern Tool Usage: Create, Select and apply appropriate techniques, resources and modern engineering and IT tools including prediction and modeling to computer science related complex engineering activities with an understanding of the limitations.
---
PO-6
The Engineer and Society: Apply Reasoning informed by the contextual knowledge to assess societal, health, safety, legal and cultural issues and the consequent responsibilities relevant to the EE professional engineering practice.
---
PO-7
Environment and Sustainability: Understand the impact of the EE professional engineering solutions in societal and environmental contexts and demonstrate the knowledge of, and need for sustainable development.
---
PO-8
Ethics: Apply Ethical Principles and commit to professional ethics and responsibilities and norms of the engineering practice.
---
PO-9
Individual and Team Work: Function effectively as an individual and as a member or leader in diverse teams and in multidisciplinary Settings.
---
PO-10
Communication: Communicate effectively on complex engineering activities with the engineering community and with society at large such as able to comprehend and with write effective reports and design documentation, make effective presentations and give and receive clear instructions.
---
PO-11
Project Management and Finance: Demonstrate knowledge and understanding of the engineering management principles and apply these to one's own work, as a member and leader in a team, to manage projects and in multi disciplinary environments.
---
PO-12
Life-Long Learning: Recognize the need for and have the preparation and ability to engage in independent and life-long learning the broadest context of technological change.
Placements
---
B.Tech 2018-2019 Batch
S.No.
Year
Name
Roll No.
Company Name
1
2018-2019
AJEET SINGH SHEKHAWAT
15EAIEE007
Arden Telecom
2
2018-2019
ANIKET TAK
15EAIEE014
Arden Telecom
3
2018-2019
KHUSHAL SHARMA
15EAIEE052
Arden Telecom
4
2018-2019
MD. ABU BAKER KHAN
15EAIEE058
Arden Telecom
5
2018-2019
MEGHAN SHARMA
15EAIEE062
Arden Telecom
6
2018-2019
PAWAN MEHRA
15EAIEE078
Arden Telecom
7
2018-2019
ATAL KUMAR SHARMA
15EAIEE029
Capgemini
8
2018-2019
HARSHIT AGARWAL
15EAIEE045
Capgemini
9
2018-2019
NIKHIL HARIYANI
15EAIEE073
Capgemini
10
2018-2019
SACHIN MANDAWRIYA
15EAIEE100
Capgemini
11
2018-2019
SANKALP SINGH SHEKHAWAT
15EAIEE106
Capgemini
12
2018-2019
ABHISHEK KUMAR
15EAIEE300
Capgemini
13
2018-2019
ROHIT KUMAR
15EAIEE099
Collabera
14
2018-2019
PRAKASH CHANDRA KUMAWAT
15EAIEE082
Genus Power
15
2018-2019
RAHUL SONI
15EAIEE091
IMS People
16
2018-2019
AJAY MEGHWAL
15EAIEE005
Optra Automation
17
2018-2019
NAGESH MEENA
15EAIEE303
Optra Automation
18
2018-2019
FEZAN ALI
15EAIEE038
Pinnacle
19
2018-2019
ASHISH KUMAR
15EAIEE025
Ripples
20
2018-2019
DEEPAK KUMAR
15EAIEE035
Ripples
21
2018-2019
MD SAEM
15EAIEE059
Ripples
22
2018-2019
AASHISH NAKUM
15EAIEE002
Wywid
23
2018-2019
AKSHAT GUPTA
15EAIEE008
Wywid
24
2018-2019
ANUP SHARMA
15EAIEE019
Wywid
25
2018-2019
ARVIND SINGH SODAWAT
15EAIEE024
Wywid
26
2018-2019
MINTU KUMAR
15EAIEE063
Wywid
27
2018-2019
SONU KUMAR
15EAIEE110
Wywid
28
2018-2019
KAMLESH KUMAR
15EAIEE302
Wywid
29
2018-2019
MOHD WASI
16EAIEE201
Wywid
---
B.Tech 2017-2018 Batch
S.No.
Year
Name
Roll No.
Company Name
1
2016-2017
GOVIND SHARMA
14EAIEE027
Arden Telecom
2
2017-2018
HARDIK SHARMA
14EAIEE028
Arden Telecom
3
2017-2018
HARIOM KUMAR GUPTA
14EAIEE030
Arden Telecom
4
2017-2018
YASHU CHOUDHARY
14EAIEE300
CADD Centre
5
2017-2018
KULDEEP KUMAR
15EAIEE204
CADD Centre
6
2017-2018
AMIT KUMAR KEJRIWAL
14EAIEE005
Capgemini
7
2017-2018
AYUSH SHARMA
14EAIEE016
Capgemini
8
2017-2018
MUNAZZA SHAIKH
14EAIEE058
Capgemini
9
2017-2018
RAGHAV THAKUR
14EAIEE072
Capgemini
10
2017-2018
SHRADHA AGARWAL
14EAIEE101
Capgemini
11
2017-2018
KHUSHBOO VAISHNAV
14EAIEE301
Capgemini
12
2017-2018
NIKHIL MISHRA
14EAIEE060
CINIF
13
2017-2018
PINKY YADAV
14EAIEE063
CINIF
14
2017-2018
PIYUSH KUMAR
14EAIEE064
CINIF
15
2017-2018
PRADEEP SONTHWAL
14EAIEE067
CINIF
16
2017-2018
SARANSH SONI
14EAIEE092
CINIF
17
2017-2018
SHAHRUKH KHAN
14EAIEE097
CINIF
18
2017-2018
SUNNY SONI
14EAIEE109
CINIF
19
2017-2018
KANCHAN MEENA
14EAIEE041
Collabera
20
2017-2018
SAURAV KUMAR
14EAIEE096
Collabera
21
2017-2018
BHASKAR SHARMA
14EAIEE018
CURA Group
22
2017-2018
BRHMDEV BIJRANIYA
14EAIEE020
CURA Group
23
2017-2018
DEEPAK KUMAR CHOUDHARY
14EAIEE021
CURA Group
24
2017-2018
DEVENDRA PRATAP SINGH CHOUHAN
14EAIEE022
CURA Group
25
2017-2018
DILIP KUMAR TALWARA
14EAIEE023
CURA Group
26
2017-2018
DIVANSHU MUDGAL
14EAIEE024
CURA Group
27
2017-2018
SAIF ALI CHOUHAN
14EAIEE090
CURA Group
28
2017-2018
TEJ SINGH RATHORE
14EAIEE111
CURA Group
29
2017-2018
ABHISHEK KUMAWAT
14EAIEE001
Dekho
30
2017-2018
ABHISHEK NAYAK
14EAIEE002
Dekho
31
2017-2018
AMAN SHARMA
14EAIEE004
Dekho
32
2017-2018
AMIT KUMAR KULDEEP
14EAIEE006
EPIC
33
2017-2018
AMRIT SINGH
14EAIEE007
EPIC
34
2017-2018
ANJANA SHARMA
14EAIEE008
EPIC
35
2017-2018
ANKUR SHARMA
14EAIEE009
EPIC
36
2017-2018
ASHIF KHAN
14EAIEE011
EPIC
37
2017-2018
ASHISH RANJAN KUMAR
14EAIEE013
EPIC
38
2017-2018
ASHISH SHARMA
14EAIEE014
EPIC
39
2017-2018
BABU SAHEB
14EAIEE017
EPIC
40
2017-2018
VIVEK PATHAK
14EAIEE117
EPIC
41
2017-2018
ASHISH DODIYAR
14EAIEE012
eUniversal
42
2017-2018
LOKESH NAGAR
14EAIEE047
eUniversal
43
2017-2018
KRISHAN BHAN SINGH
14EAIEE045
FACE
44
2017-2018
VINITA CHOUBISA
14EAIEE304
FACE
45
2017-2018
HARDIK SHARMA
14EAIEE028
Informatics
46
2017-2018
KESHAV RAJ PUROHIT
14EAIEE042
Informatics
47
2017-2018
DEVENDRA PRATAP SINGH CHOUHAN
14EAIEE022
Snappyhire
48
2017-2018
HARSH VARDHAN TRIPATHI
14EAIEE031
UA Automation
49
2017-2018
BHUVNESH AGARWAL
14EAIEE019
Wywid
50
2017-2018
HEMANT SHARMA
14EAIEE032
Wywid
51
2017-2018
HEMANT SINGH RAO
14EAIEE033
Wywid
52
2017-2018
HAMLATA VERMA
14EAIEE034
Wywid
53
2017-2018
KAMLESH MALI
14EAIEE040
Wywid
54
2017-2018
MITHU MANDAL
14EAIEE054
Wywid
55
2017-2018
PREETAM SINGH
14EAIEE069
Wywid
56
2017-2018
RANJEET KUMAR
14EAIEE080
Wywid
57
2017-2018
SAURABH SHARMA
14EAIEE095
Wywid
58
2017-2018
DEVANSHA PAREEK
14EAIEE302
Wywid
59
2017-2018
SOHAN SINGH
14EAIEE406
Wywid
60
2017-2018
KUSH SHARMA
15EAIEE205
Wywid
---
B.Tech 2016-2017 Batch
S.No.
Year
Name
Roll No.
Company Name
1
2016-2017
PIYUSH PAREEK
13EAIEE741
Capgemini
2
2016-2017
VARUN KUMAR
13EAIEE760
Capgemini
3
2016-2017
ACHLA RENWAL
13EAIEE009
Kukars
4
2016-2017
VIRENDRA SINGH SISODIYA
13EAIEE122
Habile Labs
5
2016-2017
DHARMVEER
13EAIEE032
Wywid
6
2016-2017
ANKIT KUMAR JHA
13EAIEE708
Wywid
7
2016-2017
ABHIJEET YADAV
13EAIEE005
dekho
8
2016-2017
ABHISHEK SINGH BHATI
13EAIEE007
dekho
9
2016-2017
ABHISHEK VERMA
13EAIEE008
dekho
10
2016-2017
AKHIL KUMAR
13EAIEE011
dekho
11
2016-2017
AKHILESH SHARMA
13EAIEE012
dekho
12
2016-2017
AMAR
13EAIEE015
dekho
13
2016-2017
YENA BISHNOI
13EAIEE126
Amazon
14
2016-2017
YASH VARDHAN
13EAIEE762
Amazon
15
2016-2017
SHAHEER SUFYAN
13EAIEE93
Amazon
16
2016-2017
RAHUL KUMAR
13EAIEE745
Amazon
17
2016-2017
KIRTIRAJ NAIK
13EAIEE728
Amazon
18
2016-2017
NIPENDER SINGH
13EAIEE068
Just Dial
19
2016-2017
AAKASH TIWARI
13EAIEE002
Epic Research
20
2016-2017
RITVIK SHARMA
13EAIEE749
Epic Research
21
2016-2017
ABDUL VALEED
13EAIEE003
Epic Research
22
2016-2017
SANJAY KUMAR YADAV
13EAIEE750
Epic Research
23
2016-2017
VISHAL SINGH
13EAIEE123
Epic Research
24
2016-2017
MIHIR KUMAR SINGH
13EAIEE062
Amazon
25
2016-2017
AAKASH JUNEJA
13EAIEE001
Artech
26
2016-2017
AMIT KUMAR
13EAIEE703
Arden Telecom
27
2016-2017
ADITYA KUMAR
13EAIEE010
Arden Telecom
28
2016-2017
NISCHAY JAIN
13EAIEE070
Arden Telecom
29
2016-2017
DIL VIJAY KUMAR
13EAIEE033
Arden Telecom
30
2016-2017
DHANANJAY SHARMA
13EAIEE029
Arden Telecom
31
2016-2017
DEEPAK KUMAR
13EAIEE026
Arden Telecom
32
2016-2017
VIKKY KUMAR
13EAIEE118
Arden Telecom
33
2016-2017
SUMIT KUMAR
13EAIEE106
Arden Telecom
34
2016-2017
HEMANT KUMAR SHARMA
13EAIEE041
Tech Mahindra
35
2016-2017
DEEPAK YADAV
13EAIEE717
Tech Mahindra
36
2016-2017
ARJUN SINGH
13EAIEE710
Sunwaves
37
2016-2017
JEETENDRA KUMAR
13EAIEE853
Sunwaves
38
2016-2017
RAVI RATHOR
13EAIEE086
Sunwaves
39
2016-2017
SIKANDAR KHAN
13EAIEE102
Sunwaves
40
2016-2017
HARI NARAYAN SWAMI
13EAIEE040
Sunwaves
41
2016-2017
DHARMENDRA KR. VERMA
13EAIEE031
Sunwaves
42
2016-2017
MOHIT SINGH
13EAIEE738
Sunwaves
43
2016-2017
KRISHAN RAJ
13EAIEE050
Consultadd
44
2016-2017
SHUBHAM DWIVEDI
13EAIEE753
Consultadd
45
2016-2017
ANKIT MALI
13EAIEE018
Consultadd
46
2016-2017
PRAVEEN SHAH
13EAIEE074
Cape Electric
47
2016-2017
GOURANG GUPTA
13EAIEE039
Cape Electric
48
2016-2017
ASTHA AGARWAL
13EAIEE024
Cape Electric
49
2016-2017
JUNAID ANSARI
13EAIEE045
Cape Electric
50
2016-2017
KUMARI SANDHYA RANI
13EAIEE051
Cape Electric
51
2016-2017
SHUBHAM KUMAR SONI
13EAIEE754
Cape Electric
52
2016-2017
VINOD RUNDLA
13EAIEE120
Cape Electric
53
2016-2017
MD BAHAUDDIN
13EAIEE734
Cape Electric
54
2016-2017
ASHISH KUMAR SUWALKA
13EAIEE020
Cape Electric
55
2016-2017
MEHUL SINGH JADOUN
13EAIEE735
Cape Electric
---
B.Tech 2015-2016 Batch
S.No.
Year
Name
Roll No.
Company Name
1
2015-2016
BHOJRAJ SINGH
12EAIEE029
TCS
2
2015-2016
JITENDER SINGH
12EAIEE061
TCS
3
2015-2016
MOHAMMED FARHAJ
12EAIEE077
TCS
4
2015-2016
PRADEEP PRAJAPAT
12EAIEE087
TCS
5
2015-2016
PRAKAMYA SHARMA
12EAIEE088
TCS
6
2015-2016
SHABA HASAN
12EAIEE110
TCS
7
2015-2016
SHUBHAM SHRIMAL
12EAIEE753
TCS
8
2015-2016
GARIMA YADAV
12EAIEE0043
Tech Mahindra
9
2015-2016
BHAVESH PANCHAL
12EAIEE028
Good Through Software
10
2015-2016
KARTIK TAK
12EAIEE064
JK Machines
11
2015-2016
AVINASH GUPTA
12EAIEE008
JK Machines
12
2015-2016
AATISH KUMAR JAIN
12EAIEE001
JK Machines
13
2015-2016
ABHISHEK CHOUDHARY
12EAIEE003
JK Machines
14
2015-2016
ABHISHEK TANWAR
12EAIEE004
JK Machines
15
2015-2016
SAURAV CHOUDHARY
12EAIEE749
Prolifics
16
2015-2016
RUCHI DANGI
12EAIEE351
Prolifics
17
2015-2016
VIJENDER SINGH RATHORE
12EAIEE758
Collabera
18
2015-2016
JITENDRA SHARMA
12EAIEE063
CMS IT Services Pvt. Ltd
19
2015-2016
DASHRATH KALAL
12EAIEE713
CMS IT Services Pvt. Ltd
20
2015-2016
AJAY SAINI
12EAIEE005
CMS IT Services Pvt. Ltd
21
2015-2016
AJAY SINGH CHOUDHARY
12EAIEE006
CMS IT Services Pvt. Ltd
22
2015-2016
AKSHAY BAGRA
12EAIEE007
CMS IT Services Pvt. Ltd
23
2015-2016
AMAN KUMAR SINGHAL
12EAIEE008
CMS IT Services Pvt. Ltd
24
2015-2016
AMIT KUMAR
12EAIEE009
CMS IT Services Pvt. Ltd
25
2015-2016
AMRIT SRIVASTAVA
12EAIEE011
CMS IT Services Pvt. Ltd
26
2015-2016
ANIL KUMAR
12EAIEE012
CMS IT Services Pvt. Ltd
27
2015-2016
ANIL KUMAR DHAKAD
12EAIEE013
CMS IT Services Pvt. Ltd
28
2015-2016
ANIL KUMAR RAIBARI
12EAIEE014
CMS IT Services Pvt. Ltd
29
2015-2016
ANKIT GAUR
12EAIEE015
CMS IT Services Pvt. Ltd
30
2015-2016
GUMAN SINGH
12EAIEE050
Capgemini
31
2016-2017
VIVEK GUPTA
12EAIEE126
HCL Technologies
32
2015-2016
JITENDRA KUMAR
12EAIEE726
Maintec Technologies
33
2015-2016
SHANKAR SINGH TANWAR
12EAIEE303
Arden Telecom
34
2015-2016
SHIWANI LAKHERWAL
12EAIEE141
Arden Telecom
35
2015-2016
RAGHUVEER SINGH CHAUHAN
12EAIEE093
Arden Telecom
36
2015-2016
RAHUL KUMAWAT
12EAIEE744
Arden Telecom
37
2015-2016
DOLLY MURODIA
12EAIEE041
Arden Telecom
38
2015-2016
DIKSHA TAMBI
12EAIEE037
Arden Telecom
39
2015-2016
VIKAS SHARMA
12EAIEE760
Cyfuture
40
2015-2016
ASHWANI YADAV
12EAIEE709
Cyfuture
41
2015-2016
GAURAV KUMAR
12EAIEE45
Cyfuture
42
2015-2016
DILIP SINGH TANWAR
12EAIEE716
Cyfuture
43
2015-2016
ARTI KOLI
12EAIEE019
Cyfuture
44
2015-2016
RAJAT PARASAR
12EAIEE095
Cyfuture
45
2015-2016
GAJENDRA CHOUDHARY
12EAIEE718
CINIF Technologies
46
2015-2016
GAUTAM KUMAR
12EAIEE046
Amazon
47
2016-2017
AMIT VASWANI
12EAIEE010
Amazon
48
2015-2016
ANKIT KUMAR BANSAL
12EAIEE016
Amazon
49
2015-2016
ANKIT SONI
12EAIEE017
Amazon
50
2015-2016
ARBAZ KHAN
12EAIEE018
Amazon
51
2015-2016
ARVIND CHANWALA
12EAIEE020
Amazon
52
2015-2016
RAMAN KUMAR JHA
12EAIEE121
Westin Electromech
53
2015-2016
YASHPAL SINGH
12EAIEE762
Westin Electromech
54
2015-2016
MONU SHARMA
12EAIEE078
Westin Electromech
55
2015-2016
MANISH KUMAR (SC)
12EAIEE072
Westin Electromech
56
2016-2017
ASHOK KUMAR (OP)
12EAIEE021
Westin Electromech
57
2015-2016
ASHOK KUMAR (RP)
12EAIEE022
Westin Electromech
58
2015-2016
IDRISH MIA
12EAIEE058
Shriram Transport Finance
59
2015-2016
ASHOK KUMAR REGAR
12EAIEE023
Shriram Transport Finance
60
2015-2016
DAMODAR SAINI
12EAIEE031
CADD Centre
61
2015-2016
GIRRAJ JAIN
12EAIEE049
CADD Centre
62
2015-2016
HITENDRA CHOUDHARY
12EAIEE056
CADD Centre
63
2015-2016
MALAY SHARMA
12EAIEE069
CADD Centre
64
2015-2016
MILAN MANDOWARA
12EAIEE076
CADD Centre
65
2015-2016
PINTU SAINI
12EAIEE084
CADD Centre
66
2015-2016
DHANANJAYA KUMAR
12EAIEE715
CADD Centre
67
2015-2016
SHAILENDRA KUMAR THAKUR
12EAIEE750
CADD Centre
68
2015-2016
YUVRAJ SINGH
12EAIEE763
CADD Centre
69
2015-2016
ASHU SINGHAL
12EAIEE024
Consultadd
70
2015-2016
ATUL
12EAIEE025
Consultadd
71
2015-2016
KOVID MOURYA
12EAIEE302
HCL (TSS)
72
2015-2016
SATYA PRAKASH YADAV
12EAIEE109
HCL (TSS)
73
2015-2016
AJAY SAINI
12EAIEE005
Dekho Network
74
2015-2016
AMIT
12EAIEE702
eUniversal
75
2015-2016
SHUBHAM JAIN
12EAIEE115
eUniversal
76
2015-2016
BIKRAMADITYA
12EAIEE030
eUniversal
77
2015-2016
MANGAL CHAND KAHAR
12EAIEE729
eUniversal
78
2015-2016
LAKSHYA AGARWAL
12EAIEE727
eUniversal
79
2015-2016
ANAND MOHAN
12EAIEE705
eUniversal
80
2015-2016
NEERAJ KUMAR
12EAIEE738
eUniversal
81
2015-2016
DHARAMRAJ MEENA
12EAIEE036
eUniversal
82
2015-2016
JITENDRA KUMAR SANKHALA
12EAIEE062
eUniversal
83
2015-2016
MANOJ KUMAR MAHAWAR
12EAIEE073
eUniversal
84
2015-2016
NIRAJ KUMAR
12EAIEE081
eUniversal
85
2015-2016
RAVI KUMAR SINGH
12EAIEE307
Good Through Software
86
2015-2016
YASH PATHAK
12EAIEE312
Arden Telecom
87
2015-2016
SADDAM HUSAIN
12EAIEE309
CADD Centre
---
B.Tech 2014-2015 Batch
S.No.
Year
Name
Roll No.
Company Name
1
2014-2015
PRATYUSH UPADHAYAY
11EAIEE737
L&T Infotech
2
2014-2015
ARVIND KUMA JANGID
11EAIEE002
CADD Centre
3
2014-2015
ASHISH ANAND
11EAIEE003
CADD Centre
4
2014-2015
ASHISH KUMAR CHHAMUNYA
11EAIEE004
CADD Centre
5
2014-2015
PRAMOD SINGH CHAUDHARY
11EAIEE042
CADD Centre
6
2014-2015
PUKHRAJ BUGALIYA
11EAIEE043
CADD Centre
7
2014-2015
RAJENDRA SINGH BHATI
11EAIEE044
CADD Centre
8
2014-2015
RAJESH KUMAR SHARMA
11EAIEE045
CADD Centre
9
2014-2015
RAKESH KUMAR
11EAIEE046
CADD Centre
10
2014-2015
RANDHIR KUMAR
11EAIEE047
CADD Centre
11
2014-2015
SHARIQUE ZAFAR
11EAIEE048
CADD Centre
12
2014-2015
SUJEET KUMAR GURJAR
11EAIEE050
CADD Centre
13
2014-2015
SURENDRA KUMAR YADAV
11EAIEE052
CADD Centre
14
2014-2015
SWATI SHARMA
11EAIEE054
CADD Centre
15
2014-2015
HEMANT KUMAR RATHORE
11EAIEE020
CADD Centre
16
2014-2015
BHANU PRAKASH SONI
11EAIEE009
Mindtree
17
2014-2015
CHAKRAVIR SINGH
11EAIEE011
Mindtree
18
2014-2015
ARTI SHARMA
11EAIEE001
Infosemi Technologies
19
2014-2015
HARDIK PANCHAL
11EAIEE019
Infosemi Technologies
20
2014-2015
LAXMAN LAL JAT
11EAIEE028
Collabera
21
2014-2015
LOKENDRA SINGH
11EAIEE029
Collabera
22
2014-2015
MAHENDRA KUMAR YADAV
11EAIEE030
Collabera
23
2014-2015
MAHESH KUMAR BOHARA
11EAIEE031
Collabera
24
2014-2015
KULDEEP KUMAR
11EAIEE301
Siemens
25
2014-2015
KULDEEP MITHARWAL
11EAIEE025
Siemens
26
2014-2015
ATUL AMETA
11EAIEE007
Siemens
27
2014-2015
KAMAL KISHOR
11EAIEE021
Remson Appliances
28
2014-2015
KUMAR SANIDHYA
11EAIEE026
Remson Appliances
29
2014-2015
GOVIND NATH
11EAIEE018
Merchant Navy
30
2014-2015
PANKAJ SINGH CHOUHAN
11EAIEE040
Merchant Navy
31
2014-2015
SHOBHIT KUMAR SHARMA
11EAIEE049
Merchant Navy
32
2014-2015
TRILOK CHAND YADAV
11EAIEE056
Merchant Navy
33
2014-2015
KANISHKA
11EAIEE022
Merchant Navy
34
2014-2015
GAURAV NAMDEV
11EAIEE016
Merchant Navy
35
2014-2015
DINESH AGARWAL
11EAIEE014
Merchant Navy
36
2014-2015
BRAJRAJ KUSHWAH
11EAIEE010
Merchant Navy
37
2014-2015
CHOUHAL SINGH
11EAIEE012
Adastra
38
2014-2015
DHARMESH VAISHNAV
11EAIEE013
Adastra
39
2014-2015
ANKIT RATHORE
11EAIEE704
ARN Infotel
40
2014-2015
DINESH KUMAR
11EAIEE015
Kukars
41
2014-2015
GAURAV SINGH
11EAIEE017
Kukars
42
2014-2015
MAHIPAL
11EAIEE032
PC Solution
43
2014-2015
MOHIT SONI
11EAIEE033
PC Solution
44
2014-2015
NARENDRA SINGH CHOUHAN
11EAIEE036
Emicon
45
2014-2015
PRAMOD KUMAR SHARMA
11EAIEE041
Emicon
46
2014-2015
SUNIL YADAV
11EAIEE051
HCL Talent Care
47
2014-2015
SUBHASH DAGAR
11EAIEE754
Ericsson
48
2014-2015
UMESH MANGAL
11EAIEE057
Ericsson
49
2014-2015
ASHOK KUMAWAT
11EAIEE005
Ericsson
50
2014-2015
ASHUTOSH RAJ
11EAIEE006
Ericsson
---
B.Tech 2013-2014 Batch
S.No.
Year
Name
Roll No.
Company Name
1
2013-2014
AMRENDRA KUMAR
10EAIEE009
Merchant Navy
2
2013-2014
ANKIT SHARMA
10EAIEE011
Merchant Navy
3
2013-2014
MOHIT BISHT
10EAIEE035
Merchant Navy
4
2013-2014
RAJVARDHAN SINGH CHUNDAWAT
10EAIEE042
Merchant Navy
5
2013-2014
ANKIT GOYAL
10EAIEE702
Merchant Navy
6
2013-2014
ANSHU KHANDELWAL
10EAIEE705
Merchant Navy
7
2013-2014
HIMANSHU SHARMA
10EAIEE718
Merchant Navy
8
2013-2014
PRATAP SINGH PRATIHAR
10EAIEE733
Merchant Navy
9
2013-2014
VIRENDRA SINGH
10EAIEE755
Merchant Navy
10
2013-2014
VISHAL KUMAR
10EAIEE756
Merchant Navy
11
2013-2014
MUKESH KUMAR SESMA
10EAIEE036
Merchant Navy
12
2013-2014
RAVINDRA SINGHAL
10EAIEE046
Merchant Navy
13
2013-2014
SUNIL SONI
10EAIEE057
Merchant Navy
14
2013-2014
ABHINAV SHARMA
10EAIEE004
JK Technosoft
15
2013-2014
AJAY SHREEVAS
10EAIEE005
JK Technosoft
16
2013-2014
SACHIT MODI
10EAIEE049
JK Technosoft
17
2013-2014
NADEEM SHABHA MANSURI
10EAIEE731
Alpha Nine
18
2013-2014
ARVIND KUMAR
10EAIEE014
Alpha Nine
19
2013-2014
BHARAT KUMAR PRAJAPATI
10EAIEE709
CADD Centre
20
2013-2014
DARSHAN PANCHAL
10EAIEE712
CADD Centre
21
2013-2014
DHARMVEER SUMAN
10EAIEE715
CADD Centre
22
2013-2014
LALIT TIWARI
10EAIEE725
CADD Centre
23
2013-2014
SHASHANK PANDIT
10EAIEE745
CADD Centre
24
2013-2014
  HIMANSHU TANWAR
10EAIEE025
CADD Centre
25
2013-2014
 NAROTTAM JANGIR
10EAIEE037
CADD Centre
26
2013-2014
PRATEEK GOYAL
10EAIEE040
CADD Centre
27
2013-2014
VISHAL SINGH JHALA
10EAIEE757
Cognizant
28
2013-2014
SURYA PRAKASH SHARMA
10EAIEE750
Collabera
29
2013-2014
TARUN GOYAL
10EAIEE751
Collabera
30
2013-2014
TARUN KUMAR GUPTA
10EAIEE752
Collabera
31
2013-2014
TRILOKI NATH PANDIT
10EAIEE753
Collabera
32
2013-2014
VIJAY KUMAR PANDEY
10EAIEE754
Collabera
33
2013-2014
VISHNU KUMAR RATHOD
10EAIEE758
Collabera
34
2013-2014
YOGIT MARU
10EAIEE759
Collabera
35
2013-2014
YUDHISTIR PANCHAL
10EAIEE760
Collabera
36
2013-2014
RAHUL KUMAR
10EAIEE041
Tech Mahindra
37
2013-2014
RAVI SHARMA
10EAIEE044
Tech Mahindra
38
2013-2014
ABHISHEK KUMAR
10EAIEE002
TCS
39
2013-2014
ANIL KUMAR SAINI
10EAIEE010
TCS
40
2013-2014
ROHITASH SHARMA
10EAIEE048
HCL Slocum
41
2013-2014
ASHISH SHARMA
10EAIEE707
HCL Slocum
42
2013-2014
CHANDRA PRAKASH JANGIR
10EAIEE018
HCL Slocum
43
2013-2014
HARI SHANKAR KUMHAR
10EAIEE023
HCL Slocum
44
2013-2014
KAILASH CHAND JANGID
10EAIEE026
HCL Slocum
45
2013-2014
KRITI KUMARI SHAH
10EAIEE029
HCL Slocum
46
2013-2014
ANKIT SHARMA
10EAIEE012
Infosys
47
2013-2014
SANDEEP KUMAR RANWA
10EAIEE051
HCL Technology
48
2013-2014
SANJAY KUMAR SAIN
10EAIEE052
HCL Technology
49
2013-2014
SANKALP AGRAWAL
10EAIEE054
HCL Technology
50
2013-2014
MANISH KUMAR
10EAIEE730
Syntel
51
2013-2014
SUMITKUMAR SINGH
10EAIEE749
Adastra
52
2013-2014
SOYAL KHAN
10EAIEE748
Adastra
53
2013-2014
SHYAM SUNDER AGARWAL
10EAIEE746
Adastra
54
2013-2014
SIDDHARTH BHAWSAR
10EAIEE747
Adastra
55
2013-2014
ABHILASHA BHARTI
10EAIEE003
Adastra
56
2013-2014
AJAY SINGHAL
10EAIEE006
Adastra
57
2013-2014
TARUN TANWAR
10EAIEE059
Adastra
58
2013-2014
TRIBHUWAN JOSHI
10EAIEE060
Adastra
59
2013-2014
KAILASH KUMAR NAGAR
10EAIEE027
Kukars
60
2013-2014
AMAR SINGH SHAKTAWAT
10EAIEE008
Ericsson
61
2013-2014
GAURAV VIJAYVARGIYA
10EAIEE021
Ericsson
62
2013-2014
PANKAJ KUAMR GUPTA
10EAIEE732
Ericsson
63
2013-2014
RANDHIR KUMAR
10EAIEE043
Ericsson
64
2013-2014
MOHAMMAD SALMAN
10EAIEE034
Ericsson
65
2013-2014
VIRAMGAMA JATIN JAGDISH BHAI
11EAIEE210
Inopen Technologies
66
2013-2014
DEVENDRA KUMAR
10EAIEE761
Collabera
Industrial Collaboration:
---
Sunwaves Infrapower

IBM

HCL

CADD CENTRE

INFOSYS

FOSS

L&T INFOTECH

UNISYS

WAE
RTU Syllabus:
---
As per the Rajasthan Technical University norms we offer a Four Year (Eight Semesters) B.Tech Course.
Projects
The department has successfully completed projects on:
Solar Street Light.

Solar Power Plant (1.5 kW)

Wind Power Plant (1 kW)

Solar Hybrid Car

Prepaid energy Meter

Solar Grass Cutter
Students of this department have been able to secure campus placements in many reputed companies at lucrative packages. A few are following:
TCS

CAPEGEMINI

INFOSYS

IBM

COGNIZANT

ZYCUS

ACCENTURE

HCL

AMAZON

TECH MAHINDRA
Industrial Tours & Trainings:
---
Internships and trainings in VI semesters are mandatory of 60 days.

Solar Roof top plant

Heerapura Substation.

"Rajasthan Electrical and Electronics Ltd."
Impressive Results:
---
Faculties take extra care of the students in the knowledge delivery process throughout the course period. These dedicated and concentrated efforts have culminated in obtaining 100 % results in the final year. During the last three years, this department of has successfully achieved 100% results.
Conference/seminar and workshops:
---
Arya Group has been a host and venue for various national and international conferences/ seminars and workshops including the following
International conference (ARIET-14)

2015-IEEE CIS SUMMER SCHOOL (RACITA-2015)

NATIONAL CONFERENCE (AREST-2013)

WORKSHOP (AWARD -2016)
Dr. K, PRAKASAM
Professor
(Phd)
Mr. P M BHARDWAJ
Associate Professor
(M.Tech.)

Ms. ANUPAMA CHOUDHARY
Professor
(Phd)
Mr. DEEPAK SHARMA
Associate Professor
(Phd (Purs))
Ms. NUMA M THAPLIYAL
Associate Professor
(M.Tech.)
Mr. ANIL KUMAR BHARGAVA
Assistant Professor
(M.Tech.)
Ms. DIKSHA JAIN
Assistant Professor
(M.Tech.)
Mr. PRADEEP KUMAR SHARMA
Assistant Professor
(M.Tech.)

Ms. PRIYANKA RANI
Assistant Professor
(M.Tech.)
Mr. PUSHPENDRA FAUJDAR
Assistant Professor
(M.Tech.)
Mr. RAJKUMAR KAUSHIK
Assistant Professor
(Phd (Purs))

Mr. SUBHASH CHANDRA SAINI
Assistant Professor
(B.Tech./B.E.)
Mr. SHUBHAM MAHAJAN
Assistant Professor
(MBA)
Mr. AMIT JHA
Assistant Professor
(MBA)
Mr. RAMAKANTA GAUTAM
Assistant Professor
(B.Tech./B.E.)
Mr. RAVENDRA KUMAR
Assistant Professor
(B.Tech./B.E.)
Ms. MINI SENGAR
Assistant Professor
(B.Tech./B.E.)
Mrs. POONAM GRACE TOPNO
Assistant Professor
(B.Tech./B.E. M.Tech.)
Ms. DIVYANI JIGYASU
Assistant Professor
(M.Tech.)